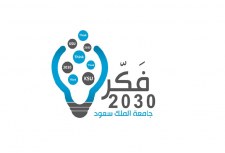 Ideas development System
"Think  KSU2030"
Think" project in King Saud University, which launched by initiatives Unit in Development and Quality Deanship, comes from the Deanship's vision to be the reference for University developmental strategies to the Global Leadership. Throughout contacting the university employees and the community to facilitate dealing with the public, knowing their views by استقبال creative ideas and initiatives to develop and improve the working level; which improve the performance of the provided services. Think project aims to find a way to continuous development throughout inspiring the employees and the community and motivating creativity, innovation and contribute to the University development, attracting constructive ideas and initiatives, participating in continuous development process at King Saud University and benefitting from everyone's experiences and ideas to achieve excellence and scientific leadership at King Saud University.
Aims
 Inspiring the employees and the community and motivating them to creativity and innovation.
 Attracting constructive ideas and initiatives to contribute in the Strategic Plan implementation KSU2030.​
spread the initiative spirit and pioneering thinking to all employees and community.
 Promote initiatives unit in development deanship as a developmental center in the University.
Find ideas and solutions for the University issues.